Happy Friday! The weather is ever so slowly getting warmer. Suddenly, there's not just one, but 5 or 10 local 5K races I could run each weekend. I'm starting to notice robins and tree buds and crocuses. I've finally admitted to myself that I actually like the smell of fertilizer.
My training went well this week. I took my heart rate monitor for a spin during an eight mile run on Wednesday. I hit an average heart rate of 163 over eight miles at a pace of 7:48. That's a little high, so I might have been running a bit fast for an everyday training run, but it's how fast my body wanted to run so I just went with it. I may or may not be racing this weekend, depending on the weather. (Saturday is supposed to be windy and Sunday is a flop because of Easter.)
I'm editing a book. It's a lot of work, but the only way to get it done is to break it up into small, manageable pieces. I know exactly how long I can work in chunks (3 hours) before I start to go insane. When I sit down to work, I set my timer and when my timer beeps I break to either run or eat. This system is working well for me and I'm starting to really enjoy editing vs. actively writing. I know I personally can only ever be successful by maintaining balance in my life. I divide my time equally between writing work, creative work, running, yoga, reading, and zoning out with music/shows/movies. As I get older, I get progressively better at biting off a wee bit less than I can chew, which allows me to enjoy life alongside work. So, with this idea in mind, here are a few of my weekly favorites:
What I've been watching: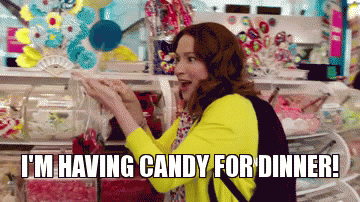 Unbreakable Kimmy Schmidt. Honestly, I was sort of turned off to this show after watching the pilot because the characters are all so cringe-worthy cliche. EXCEPT for Kimmy Schmidt. She's just so insane and I cannot stop watching her spastic facial ticks. Sometimes I, too, feel like a silly, naive, gingery, overly emotive, 90s-nostalgic, 29-year-old woman who spent the early 21st Century trapped in a bunker. (Pretty much all of the aforementioned is literally true about me, except for the last part, which easily works as metaphor.) I'm obsessed with Kimmy's ridonculous fashion sense and I'll probably have to buy at least one new bright pink lipstick before April is over. (P.S. I just discovered this website, which apparently is the "Shazam for [beauty and] fashion.")
What I've been eating:
These random gluten-free chocolate chip cookies.
Chris brought these home from Target and told me not to eat them. So I waited for him to leave town and then I ate them. They are delicious. Basically, they are the closet thing to raw cookie dough I've ever experienced in cooked cookie form. So soft, so tender, so persuasive….. Anyway, I neither need nor prefer gluten-free food, but I do very much prefer snack food that doesn't contain GMOs and artificial colors/preservatives. If I'm going to eat stuff out of a package (and, let's face it: practically everything I eat is out of a package), I'd like it to be as natural and unprocessed as possible.
What I've been listening to:
I've been on a huge Broken Bells kick lately. I can't seem to decide whether Broken Bells or After the Disco is the better album. Anyone care to weigh in? Either way, James Mercer makes a great running buddy.
What I've been reading:
White Noise. I'm ashamed I didn't arrive here sooner. I'm pretty convinced DeLillo wrote this one especially for me. I cannot put it down, so I've fallen asleep in it more than a few nights this week.
What I'm looking forward to: Racing spring's first WARM 5K half naked, seeing Sufjan Stevens in concert, getting tan, finding some free time to bake all the recipes I've been hoarding in Pinterest.
Questions for the Internets:
What's the best thing you ate this week?
Did you watch Unbreakable Kimmy Schmidt? What did you think?